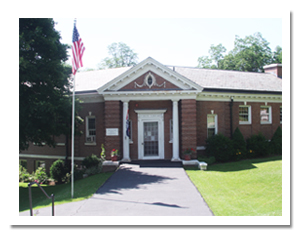 The Proctor Free Library was organized in 1881 when Proctor was known as "Sutherland Falls".Former president of the Vermont Marble Company and patriarch of four generations of governors, Redfield Proctor, started and nurtured Proctor's first library.
The Library had a modest beginning in an upstairs room over the Monumental Shop. Senator Redfield Proctor provided the first books and matched funds provided from other sources. A few years later new quarters were found over the Cooperative Store, and in 1891, moved to the building currently housing the Municipal Offices. In 1913 the Library moved to its present home. Mrs. Emily Dutton Proctor, widow, of Senator Redfield Proctor, provided the funds for the building as a memorial to her daughter Arabella Proctor Holden.
The Proctor Free Library is open Monday through Thursday from 9:00 a.m. to 11:00 a.m. and 2:00 p.m. to 8:00 p.m. Friday from 9:00 a.m. to 12:00 noon and 1:00 p.m. to 5:00 p.m. Saturday from 9:00 a.m. to 12:00 noon. Closed Sunday.
Please contact the Proctor Free Library with any questions regarding their programs and services – 459-3539.